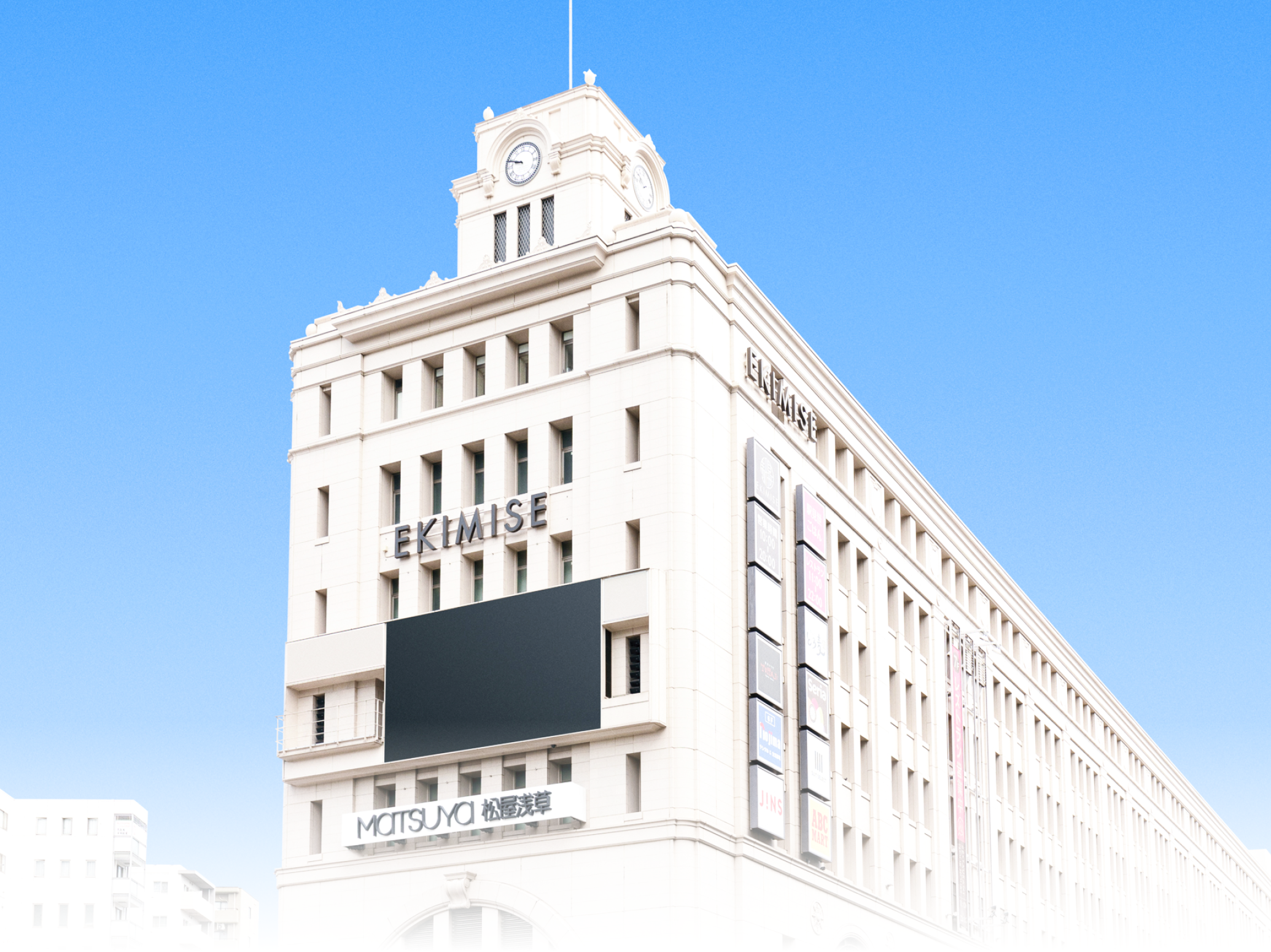 Matsuya, bringing you
Japanese culture since 1931

Asakusa is a hallmark tourist destination in Tokyo, a neighborhood rich in the flavors of traditional Japanese culture. Since the opening of Tokyo Skytree, Asakusa has grown livelier as a center of old culture and new culture mingled together. Matsuya Asakusa opened in the heart of this cultural hub in 1931.

A store loved by the local people of Asakusa, it carries a wide selection of articles from long-established Tokyo brands.
We look forward to introducing you to our rich inventory of traditional Japanese goods.
Information
Business Hours
Store hours may change without prior notice.
Credit Cards
At Matsuya Asakusa we accept the following credit cards.
Tax Refund Counter (1F)
In Matsuya Asakusa: If the total value of purchases in one day exceeds 5,000 yen, excluding tax (or 5,000 yen to 500,000 yen for foods, cosmetics, etc., excluding tax), you can have your consumption tax refunded. For purchase of less than ¥5,000 per single item, if the total amount is between ¥5,000 and less than ¥500,000 (not including tax), then general goods and consumables can be totaled together and tax exemption performed in the same way as for consumable goods.
* We charge a duty-free handling charge of 1.54% for duty-free products.
Thank you for your understanding.
Available at the Tax Refund Counter on 1F.

Targets: Purchases by non-residents to be taken out of the country
Necessary items: (1) Passport, (2) Receipt for that day's purchases, (3) Credit card (if you used it for the purchase), (4) purchased items
* You can also claim tax exemptions using the duty-free QR code on the Visit Japan website.
When doing so, you may be asked to display your passport to confirm your identity.
* The same customer name must appear in all documents (passport, receipt, and ID).
* Only non-Japanese customers with the following status of residence types are eligible for tax exemptions.
Temporary Visitor, Diplomatic Visa, Official Visa
* Please note that Permanent Residents, Special Permanent Residents, Spouses of Japanese Nationals, and Spouses of Permanent residents are not eligible for tax exemptions as of September 1, 2022.
* All information on tax exemptions is shared electronically with the National Tax Agency.
* Only purchases that are for personal use can be tax-free. Under guidance from the National Tax Agency, from the viewpoint of preventing misuse of tax exemptions, customers who make high-frequency, high-volume, and/or large-amount purchases exceeding a certain level may not be eligible for tax exemptions.
Thank you for your understanding.
* Thank you for your understandings.
Services
Foreign Currency Exchange Machine(1F)
You can change eight foreign currencies into Japanese yen.Handled currencies:
(1) US dollar, (2) Euro, (3) Chinese yuan, (4) Korean won, (5) Singapore dollar, (6) Hong Kong dollar, (7) Taiwan dollar, (8) Thai baht
* You cannot change Japanese yen into foreign currencies
* You can only change foreign currency bills
YAMATO Transport Service Counter (Delivery Service)(Temporarily out of service)(1F)
To your Hotel

We will deliver the items you purchased in our store to your hotel on the same day.
Please ask a member of staff for details on which hotels can receive deliveries.

*pay service

To the AirPort

We will deliver the items you purchased in our store to the Yamato Transport Company's service counter at Haneda Airport or Narita Airport.

*pay service
Access
Address

1-4-1 Hanakawado, Taito-ku, Tokyo 111-0033

Phone

03-3842-1111 (from within Japan)

Directions from the train station

1 minute on foot from Exit 7 of Asakusa Station, Tokyo Metro Ginza Line
Direct connection to Asakusa Station, Tobu SKYTREE Line
3 minutes on foot from Exit A5 of Asakusa Station, Tokyo Metropolitan Subway Asakusa Line
8 minutes on foot from Exit A1 of Asakusa Station, Tsukuba Express Line